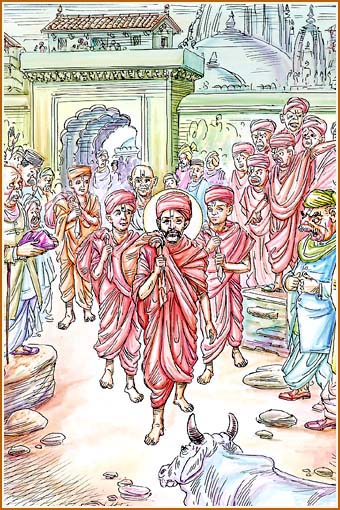 Imagine. It is November 13, 1905. We are gathered at Shastriji Yagnapurushdas's asan in Vartal. The leading devotees have just come back from the Acharya's room. "Who'd give him a letter to travel the villages?! The whole country is lying open. He can go wherever he pleases!" The Acharya's response was far from what they had expected.
It seems the moment foretold by the events of the last few days is here at last. Only yesterday, when Krishnaji Ada finally convinced Shastri Yagnapurushdas to part from Vartal, everyone had found such relief in the possibility of this instant. Yet now, no one is saying a thing.
Shastriji Maharaj is quiet as well. But his silence is different, untainted by turmoil. He simply sits still in the middle of an emotional storm and one cannot help but try to follow his distant gaze and search for the thoughts that occupy his mind. It is then, in that moment, that I feel brushed by the wind of a little boy running down the hallway.
His name was Dungar and he had always come to spend his time at the sadhu's residences. In this very hallway, he had met countless sadhus initiated by Bhagwan Swaminarayan himself. He would run from seat to seat bowing down to each of the great sadgurus. After meeting them all, he would go to Adbhutanand Swami. Here, he would do Swami's seva and then sit to listen as Adbhutanand Swami spoke on vairagya and the fickleness of this world.
As Dungar fades down the hallway, Shastri Yagnapurushdas finishes speaking to Purushottamdas Swami; he is going to have to stay behind in case the Acharya changes his mind. A few of the haribhaktas separate to pass along the word that the time has come – "Shastri is leaving Vartal." Swami stands up and in his footsteps follow Narayancharandas Swami, Niranjandas Swami and three other sadhus. They begin to pack their . As he gathers the few things that might be called his, he probably doesn't see the boy that fills my eyes.
Dungar was at the cabinet 25 years ago. Vignanand Swami's arrival in Vartal had ended his search for a great paramhansa of Shriji Maharaj to make his guru. It was Swami who had first asked him, "Child, do you want to become a sadhu?" Dungar's heart had lept with joy. He followed Swami to Surat, received diksha on Swami's recommendation, and began his studies of Sanskrit; it was Vignanand Swami that had loved him like a father, trusted him with the responsibilities of managing Surat mandir, and even supported his embrace of the Akshar Purushottam upasana and Bhagatji Maharaj.
All of that had started right around this cabinet. And now Swamishri is closing it for the last time. He steps out of the sadhu's residences and into the grand quad of the mandir. I can only marvel at his steps – steady, purposeful, unashamed; his stride is so much like a lion's gait, except that his strength does not come from arrogant nonchalance but from the humility of accepting a greater will. Five brave sadhus quietly follow him. 100 or so of us trail behind them. Devotees and sadhus are looking on from the balconies above us. Sadhus speaking in the sabhamandap, abruptly stop; their eyes and the eyes of their audience are fixing on Yagnapurushdas. It seems almost everyone has something to whisper to someone else and what they think are quiet pronouncements are collectively becoming a hum echoing from the compound's structures. Some, who think themselves bold, jeer as Swami passes. Others, like Gordhandas Kothari, are brave enough to recognize Swamishri's integrity and saintliness. Mentally or physically, they fold their hands and bow their heads. Some even let tears flow. And amongst them, amongst their humming, their jeers, and their sighs and sobs, I hear the laugh of Dungar.
Every ekadashi and punam, since the age of 7, Dungar had come running into this compound, sometimes led by his brothers and father, most times leading. How many times had he walked around the square searching for the discarded pages of the temple scribes? Dungar could hardly keep count. But every time he found some pages, he would take them and sit on the steps of the mandir, reading them in the style of a pundit. This was also the square that used to echo with his laughter as he ran away from his family to meet the sadhus in their residences. It was amongst these very walls, that he had discovered the relics of Shriji Maharaj and had their darshan. It was here, in front of the sabhamandap, that he had boldly told Bechar Bhagat to become a sadhu from within. He had climbed the stairs of the Acharya's haveli so many times that the parshads and even the current Acharya's father called him by name.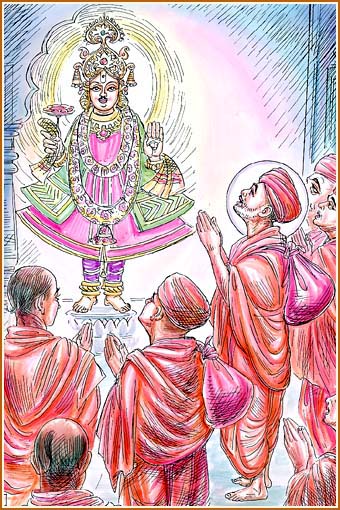 But today is a different story. Swami does not climb the stairs to the haveli; he climbs the stairs across from them, to the mandir. He does darshan of all the murtis with love. But in front of Harikrishna Maharaj he pauses more than anywhere else. This is the murti Maharaj has installed himself. It is possibly the most sacred murti of the Swaminarayan faith. Swami folds his hands, "Maharaj! We don't even remotely wish to separate, but if this is your wish then please always stay in our assistance; stay with us eternally." It was his last prayer to this murti – a murti he had spoken to since he was a boy.
What Dungar prayed for no one could tell. Fear was not a feeling he had known. Worldly things did not entice him. But, nonetheless, Dungar had stood in front of this same murti countless times as a child. Dungar's puja, his meditation, even his mind's free moments all focused on this form.
Shastriji Maharaj turns away. He climbs down the same stairs. His puja, his clothes, one or two books – those few things one might call his – hang over his right shoulder in his potlu. A pagh covers his head. His face is calm. He neither frowns with grief nor smiles with any pretense. Before anyone truly realizes what has happened, 41 year-old Swamishri, five sadhus, and about 150 devotees walk out the main gate of Vartal mandir for the sake of Akshar and Purushottam.
*
To truly transport one's self to that time is currently impossible. However, one thing seems certain. It is impossible to imagine that fateful day in 1905 without marveling at the depth of Shastriji Maharaj's faith in Akshar and Purushottam, the strength of his conviction to live for his faith. One is left in awe at the mettle of his detachment from all things other than Maharaj and Swami because the Vartal he was leaving was not just the throbbing heart of the Swaminarayan Sampraday; it was not just a seat of power and authority; it was not just a place of comfort and honor; it was also the Vartal that had filled his childhood, the place he had spent his happiest childhood moments in devotion. Today, among all those other Vartals, he was leaving the Vartal of his childhood.
[Originally printed in the Swaminarayan Bliss | Reposted here to celebrate Shastrijij Maharaj on Vasant Panchami. Image Credit: https://www.swaminarayan.org/shastrijimaharaj/life/30.htm]